Do You Have A Problem With Moles In Riverside County?
When you head out to your lawn and see a series of 3- to 5-inch rounded, raised ridges breaking the surface of your lawn that look like tiny dirt volcanoes, you know you have moles! Moles are helpful in that they naturally aerate soil and eliminate the larvae of destructive insects, but they do become a problem once they invade lawns and gardens, tearing up your grass and uprooting plants. These subterranean insectivores grow to be 6 to 8 inches and have grey to black velvety fur, slender hairless snouts, and small eyes and ears. Their large front feet have long claws that dig like a hoe.
These creatures make a series of tunnels that they scurry through. Moles feed on insects and insect larvae, but their preferred dinner includes earthworms and white grubs. Given a choice, moles pick moist, sandy soils over dry, heavy clay soils. They are most active during warm, wet months, although they live underground year-round.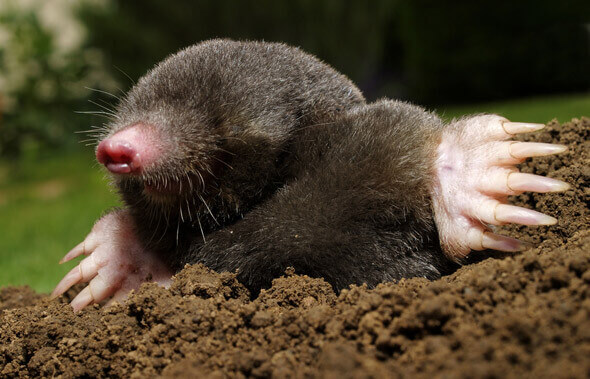 Things to consider when dealing with moles in your yard:
The sooner you remove the moles from your yard, the better. Female moles produce three to five young each spring.
You know you have a mole problem when large piles of dirt appear all over your landscape.
Mole sprays, powders, and homemade concoctions do not work. Please do not waste your time and money.
We Will Beat Any Competitor price!
Getting rid of moles is not an easy task
They need to be removed in a specific manner if you do not want them to return. Our professionals at All City Animal Trapping have the experience and tools necessary to remove these pesky critters permanently. Our tried and true methods are humane and safe. And we take pride in doing the job the right way, the first time. We are also able to install mole exclusion materials to ensure that moles will not return to your property. We have over 20 years of mole removal experience in the Riverside area. Give us a call today to speak to a friendly trapping professional and finally take care of your mole problem!
Call anytime for a FREE Quote! 877-724-5314 We will beat any competitor's price!
We provide mole trapping and removal service to all cities in Riverside county, including:
Banning
Beaumont
Blythe
Calimesa
Canyon Lake
Cathedral City
Coachella
Corona
Desert Hot Springs
Eastvale
Hemet
Indian Wells
Indio
Jurupa Valley
Lake Elsinore
La Quinta
Menifee
Moreno Valley
Murrieta
Norco
Palm Desert
Palm Springs
Perris
Rancho Mirage
Riverside
San Jacinto
Temecula
Wildomar