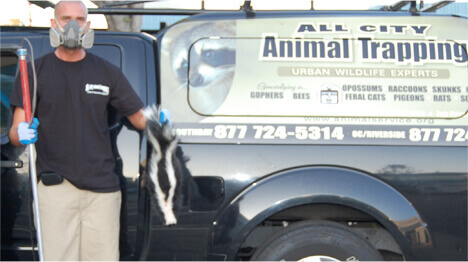 Over 20 Years Of Animal Trapping & Animal Removal Experience
We've been humanely trapping and removing nuisance animals in the greater Los Angeles area for the past two decades. With our competitive pricing and our team of experts that have a combined 88+ years of experience, we provide fast, professional and effective animal removal. We will do all we can in a professional and humane manner because we care about our customers.  Get to know about us.
HUMANE, ON TIME, LICENSED, INSURED, PROFESSIONAL, EXPERIENCED
Safety & Satisfaction Guaranteed!
We don't want you to have to call us back, but we do want you to rave about us to all your family, friends and neighbors, so we take great pride in getting our job done right – the first time. Contact us for an immediate quote.
We're so sure we'll do it right the first time, we guarantee it! All City Animal Trapping experts will take care of your Animal Removal and problems and repair any property damage caused by its intrusion and seal off all entry points to ensure the animals never return.
Professional courtesy is our highest priority. Our friendly staff will treat you with respect.
Professional integrity is our highest goal. Our expertly trained technicians strive for top-quality work, from beginning to end.
Our expertly trained technicians strive for top-quality work, from beginning to end.We're so confident in our skills, we guarantee your satisfaction! All City Animal Trapping offers a warranty on all workmanship. If you are not satisfied, we will make it right – guaranteed. If you have an animal problem, give us a call. We'll provide you with a free quote and same-day service. All City Animal Trapping is the humane and effective solution to your wildlife problems. We take pride in our work and guarantee your satisfaction. Call us today!