How will I know oppossum are in my home?

Unless you see it go into your home then this could be tough. You would have to rely on sounds and it's impossible to hear the difference between an opossum and a raccoon or squirrel. You can look for signs like hairs, footprints or droppings to help but making that determination without seeing them would be very difficult.
Do oppossums live in attics, walls, floors?

Yes. They don't need much room and I've personally seen them in all of these locations.
How much does it cost to remove oppossums?

The cost for removal varies between removal methods. Sometimes we're able to remove them on the spot by hand, net or snare. Sometimes we're able to perform a pheromone treatment to get them out of a space. This treatment works well when there's multiple animals or a mother with babies. The other method is live trapping. So it would depend on where they are and what the trapper thinks is the best method of removal once the inspection is completed.
How long does it take to remove oppossums?

We try to remove them on the spot if possible. This is done same day and usually within an hour. The pheromone treatment typically takes a couple days but we would give it a week because when we do this that means there's multiple animals. Trapping can happen overnight or take a couple weeks. We would generally trap if the opossum is coming into your yard at night.
What is the process of removing oppossums?

This depends on the situation. If the opossum is just outside then we would trap. If it's in your home, garage, attic or crawl space then we would try to remove it on the spot by hand, net or snare. If we're not able to remove it on the spot then we would either perform the pheromone treatment or set traps.
How do we clean up after removing oppossums?

If the opossums were in your crawl space or attic then that usually means there's droppings, nesting materials or some other kind of debris. So we would provide an estimate based on material and labor for clean up, disinfecting and sanitization. We would remove all droppings, nesting material and all other animal-related debris, vacuum with a HEPA filter and then fully disinfect/ sanitize all areas needed.
How much are the repairs after oppossum removal?

Any animal-proofing repairs would be quoted on the spot based on material and labor. Sometimes it's just one vent that needs to be repaired and sometimes there's 10+ openings that need to be properly sealed. It all depends on what the openings are and what they require. Do I need a ladder? Is it mesh? Wood? Concrete? So there are a few factors that go into any estimate for animal-proofing repairs.
Do we trap live oppossums?

Yes. Every day for 34+ years. Again, if we can remove the animal on the spot and solve the problem right then and there then we will. If not, then we would typically set live, humane animal traps and remove them that way.
Do you have an opossum problem?
We can help with your problem. We have many years of experience. Opossums are well-known scavengers and they often visit homes to raid garbage cans and dumpsters. They are also attracted to carrion and can be spotted near roadkill. Opossums like to eat grass, nuts, and fruit or hunt mice, birds, insects, worms, snakes, and even chickens. Pretty much, opossums will eat anything they can get their hands on. These animals are most famous for "playing possum" or "playing dead". When threatened by dogs, foxes, or bobcats, opossums sometimes flop onto their sides, lying on the ground with their eyes closed and their tongues out. They generally appear to be dead! This ploy may allow the opossum the opportunity to make its escape.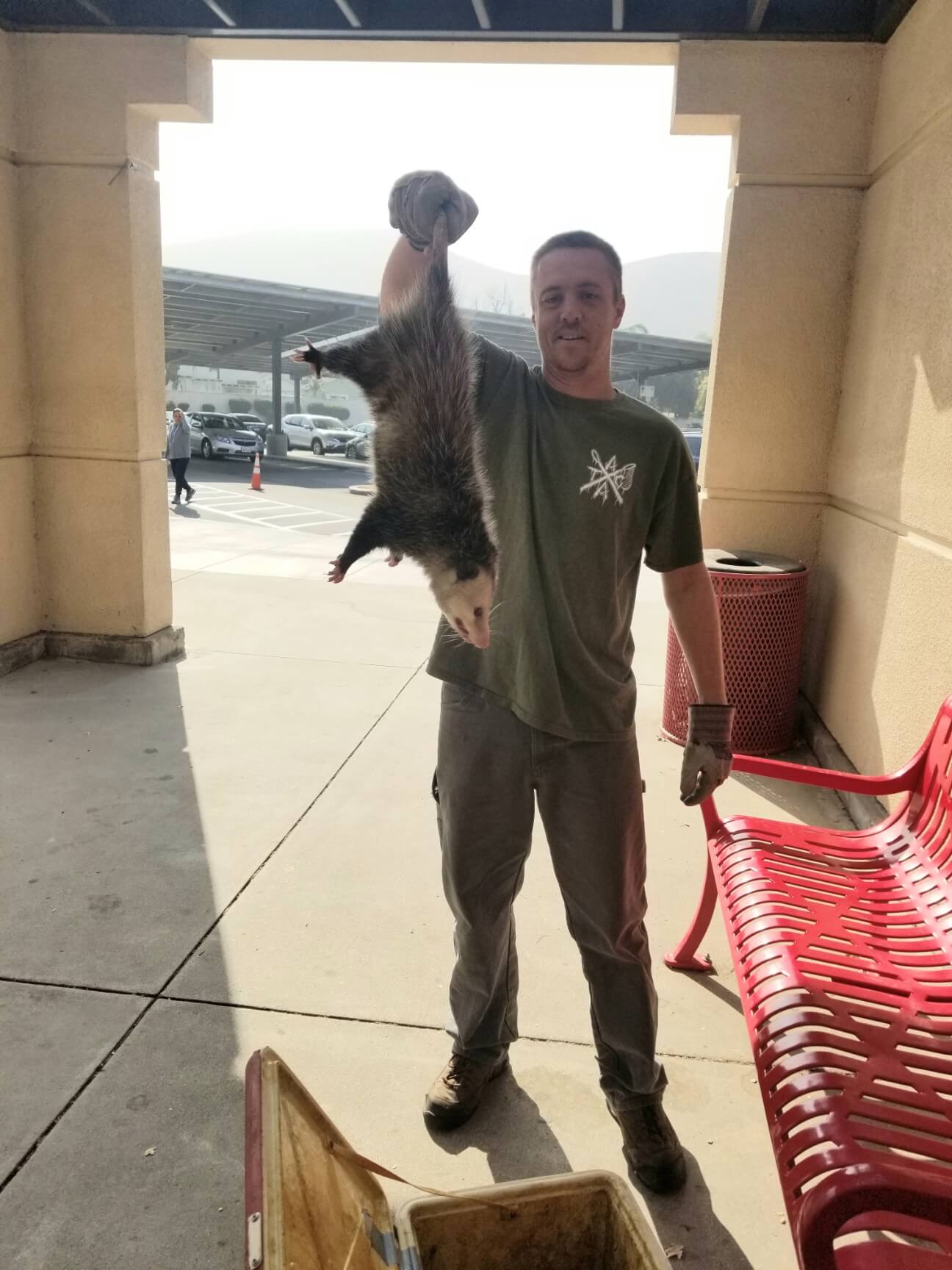 More Information about Opossums
Using poison for larger wildlife, such as opossums, does not work and it's not humane. You need to have a professional address your opossum control problem.
It only takes a mere 13 days for opossums to give birth to a dozen babies. Before you know it, you could have an entire clan of opossums in your backyard.
These marsupials often carry rabies. They also carry many other diseases, such as leptospirosis, tuberculosis, relapsing fever, spotted fever and many more. This puts you, your family and your pets at risk.
Opossums have one characteristic that makes them more like a human being than nearly any other animal: opposable thumbs. This attribute helps them get into some tricky places in your home, such as into broken vents, open holes under eaves and through open crawl space covers.
Opossums have sharp claws and teeth and they will bite. Only an experienced trapper should remove opossums.
Speak With A Live Trapper Now!
We are professional opossum trappers
All City Animal Trapping has been handling opossum removal in the Los Angeles area for over 20 years. We humanely and safely remove the opossums, clean any affected areas and install exclusion materials to ensure that the opossums will not come back. If you want the job right the first time, call All City Animal Trapping. We employee several trained professionals with many years of experience that can respond to your call 7 days a week. It only takes one wild animal to wreak havoc on your Los Angeles County home! Get ahold of us today.
We offer animal exclusion services to prevent your home from animal trapping and animal removal issues. With our animal exclusion barriers, you could save yourself hundreds or even thousands of dollars in damage. Whether you need opossum removal or exclusion services in the Los Angeles area, All City Animal Trapping is available to help you. Let us take care of your opossum problem! Call us today. You will be happy that you did.
Call anytime for a FREE Quote! 877-724-5314 Let us  beat any competitor's price!
We provide opossum trapping and removal service to all cities in Los Angeles county.