Do you have a skunk problem?
Skunks have a black and white coloring, which makes them very easy to recognize. These colorful critters are wildly infamous producers of an odor so powerful that it quickly and easily communicates a clear message, "Turn and run". Though blending into the landscape is a more common form of protection in the wild, being so distinguishable is generally beneficial to skunks, because it can dissuade many wild animals, and the occasional dog with more than half a brain, from attacking. Skunks can be both a good and bad thing around your home. They are considered carnivores and feed mainly on rodents. They also like to feed on insects, which help keep the populations down.
However, while helping control unwanted populations, skunks are known to do harm to property and domestic animal populations too. If available, skunks will feed on poultry and their eggs. Also, they eat garden vegetables and fruit, do damage to lawns when foraging for insects and damage beehives. Skunks like digging under foundations to take refuge beneath homes and in other less-trafficked buildings. If you have a skunk on your Fresno property, give All City Animal Trapping a call. We have the experience and tools for successful skunk removal.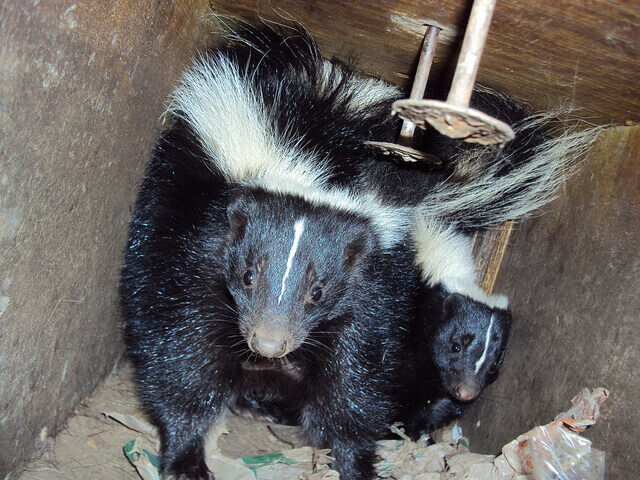 Things you need to know about skunks:
Skunks live up to 3 years in the wild. They can survive up to 10 years in captivity.
Skunks can spray their powerful scent up to 15 feet. This scent burns an attacker's eyes and can cause temporary blindness.
Skunk species vary in size from about 15.6 inches to 27 inches and in weight from about 1.1 pounds to 10 pounds. They have a moderately elongated body with reasonably short, well-muscled legs and long front claws for digging.
We Will Beat Any Competitor price!
We are professional skunk trappers
At All City Animal Trapping, our field specialists have the training and tools to humanely and effectively perform skunk removal, skunk control and trapping skunks in Fresno county. We expertly set traps with bait to lure the skunks. Once we trap and remove the skunk, we install exclusion materials around your property to ensure that you won't have another skunk problem in a few months. We also install preventative exclusion barriers so you won't ever have to deal with a skunk problem. If you have a skunk on your hands or would like to take preventative measures, give All City Animal Trapping a call today. We are your one-stop-shop for all things skunk control and removal in Fresno County.
Call anytime for a FREE Quote! 877-724-5314 We will beat any competitor's price!
We provide skunk trapping and removal service to all cities in Fresno county, including:
Clovis
Coalinga
Firebaugh
Fowler
Fresno
Huron
Kerman
Kingsburg
Mendota
Orange Cove
Parlier
Reedley
Sanger
Selma